Equipment
WHAT ELSE WE CAN OFFER YOU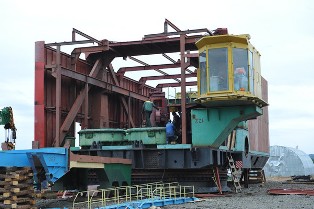 REPAIR IN FIELD CONDITIONS
Fitters, welders, mechanics and electricians of Contact Mechanics company can provide You with services for installation and repair services throughout Russia and the CIS. 
MAINTENANCE 
To reduce the downtime of the essential machines Contact Mechanics company can provide a team of mechanics with all the necessary equipment to provide any technical support for Your machines in the field.
INSTALLATION AND REPAIR OF EXCAVATORS OF THE TYPES OF DRAGLINE AND POWER SHOVEL
The company has extensive experience in the field of dismantling, loading on transport, delivery to destination, quality installation, and provision of the excavators of the types of dragline and power shovel in good technical conditions with all warranties for labor and spare parts.
THE DEPARTMENT OF RELIABILITY 
Our department of diagnostic service and reliability offers a unique team of qualified professionals who can detect and prevent catastrophic failure of the equipment even at very early stages of destruction. Not only after the machine has already worked in your enterprise, but even before it was launched for the first time. We can set up equipment in the field to ensure optimum operation of Your machine from the beginning and throughout the life of the machine prolonging the life of Your equipment. 
Our certified vibration analysts use the most modern technologies and equipment using in industry to perform vibration analysis of any rotating equipment.  With the help of the software package "AMS" - the software to diagnose machine conditions - we can collect data on vibration, analyze them and provide You with a full report about the technical conditions of Your machine, including any mechanical and electrical problems.
Quality assurance 
Contact Mechanics company provides the quality specified by the Customer at the level required in the documentation for projects associated with any kind of industry. WE provide a "phased" approach to quality in any project or special assignment.